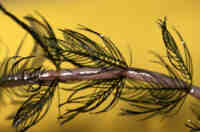 The Minnesota Department of Natural resources is stepping up patrols and citations ($50 – $1,000) for violating the state's aquatic invasive species (AIS) laws.  Invasive species are species that are not native to Minnesota and cause economic or environmental harm or harm to human health.
In addition to the many lake associations in Anoka County – two Lake Improvement Districts have been established for Lake George and Coon Lake.  The purpose of these lake organizations is to maintain the quality of the lake and shore environment which includes preventing and controlling aquatic invasive species.  PLEASE DO YOUR PART!
For more information on AIS and how you can prevent their spread visit DNR's Aquatic Invative Species website or contact the DNR's AIS Specialist, Keegan Lund, at 651-259-5828.