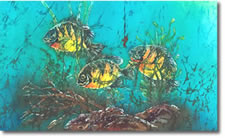 Anoka County is in the heart of the land of 10,000 lakes and some excellent fishing.  But how much do you know about the fish?
Most fish in Minnesota are safe to eat.  All the fish in Anoka County lakes and rivers are safe to eat.  But, too much fish may not be healthy.
Any fish (store-­‐bought or sport-­‐caught) could contain contaminants such as mercury that can harm human health especially the development of children and fetuses.  You can't see, smell or taste the mercury in fish.  That's why it is important to know which fish are safer than others.
The Minnesota Department of Health has established fish consumption advice to limit exposure to specific fish caught in specific lakes and rivers throughout Minnesota (329 pages, Oct. 2011).  The two guidance documents for Anoka County lakes and rivers are now available:
For more information contact the Minnesota Department of Health Fish Consumption Advice website or call 651-201-5000.