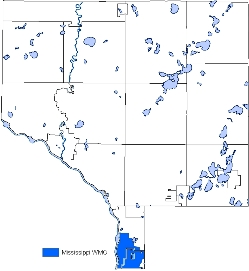 The Mississippi Watershed Management Organization (MWMO) now extends into Anoka County protecting and managing surface water in portions of Columbia Heights, Fridley and Hilltop that drains to the Mississippi River.
MWMO Mission Statement is to lead and foster stewardship of the watershed with actions that promote civic ownership and responsibility and through measures that achieve diverse and functional ecosystems.
The MWMO will provide for the long-term management of its water and associated land resources through the development and implementation of projects, programs, and policies that respect ecosystem principles and reflect changing community values. The MWMO will assist and cooperate with member cities, other units of government, non-profit agencies, and a variety of groups in managing its water resources to achieve this vision.
The MWMO community representatives from Anoka County are Donna Schmitt (Columbia Heights & Hilltop) and James Saefke (Fridley).  Read about the latest happenings in the MWMO newsletter The Drift.
For more information contact the Zhenya (Zee) Stone, Office Administrator, 612-465-8780 (zstone@mwmo.org)