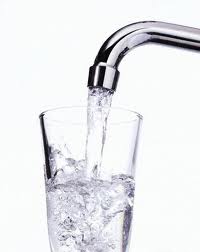 Drinking water is generally in good shape at Anoka County's community water supply systems, according to the Minnesota Department of Health's (MDH) Drinking Water Annual Report 2012.  Highlighted in the report is completion of the first phase of a new water and stand-alone wastewater system in East Bethel. "Water is the key to development" said East Bethel City Administrator Jack Davis.
Municipal water suppliers are distributing or posting their 2012 water quality reports. Water quality testing results are summarized in the reports for 2012 (Jan 1 to December 31).
The reports describe where the drinking water comes from and  what's in it.  Groundwater, from wells, is the source of drinking water for Anoka County public water suppliers (except Columbia Heights and Hilltop). Water supply wells are drilled in the community that it serves. Residents and businesses are in a unique position to protect the safety of their drinking water source – the groundwater below them.
Municipal Wellhead Protection.  Community water suppliers are implementing wellhead protection programs to manage potential sources of soils and groundwater pollution near their wells.  Residents and property owner within a Drinking Water Supply Management Area (DWSMA) are in the best position to protect the source of drinking water to their community.  To see if you are in a DWSMA go to the Anoka County Wellhead Protection map application.
Water service customers that want a copy of their water system's annual report may check the utility website or request a copy from their water supplier:
Home/cabin water well owners:  The Anoka County Community Health and Environmental Services Department recommends that you test your water supply annually to be certain that it remains safe to drink. For more information see the Well Water Testing webpage or call Environmental Services at 763-422-7063.