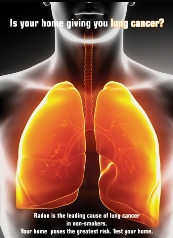 Governor Dayton has proclaimed January 2015 as Radon Action Month to emphasize that every home should be tested for radon as 2 in 5 homes still have dangerous levels (see Unity Hospital Hosts Community Forum on Radon, YouTube video, CTN Studios; 2:07). Fortunately, the risk is largely preventable, by testing homes and fixing radon problems.
Radon is the leading environmental cause of cancer deaths in the United States and the leading cause of lung cancer among non-smokers. More than 21,000 lung cancer deaths are attributed to radon each year in the U.S.
The number of homes fixed (mitigated) has doubled over previous years due, in part, to a new state law that went into effect Jan. 1, 2014. The law requires information to be provided to buyers about radon during a home sale. During the first nine months of 2014, at least 2,389 homes had work done to reduce radon levels; the average for the previous two years was 1,279.
The Minnesota Radon Awareness Act requires sellers to inform buyers whether their home has been tested for radon and if so, what the levels are and whether the home has been mitigated for radon (see Radon in Real Estate Transactions brochure). In addition, sellers must provide a warning statement and a two-page publication to the buyer.
Radon is an odorless, colorless and tasteless radioactive gas that occurs naturally in Minnesota soils. It can enter into all kinds of homes through cracks or openings in walls or foundations. The only way for residents to know if their home has radon is to test.
Anoka County Community Development provides radon test kits for homeowners. For more information go to the Radon Information and Order Form webpage or call Community Development at 763-323-5764.