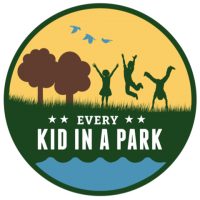 Every Kid in a Park is a national initiative to engage and create supporters and advocates of nature's environment and provide an appreciation of America's history and culture. The immediate goal is to provide an opportunity for every child across the country to experience America's public lands and waters in person throughout the 2018-2019 school year.
Parents, teachers, families, and children, explore together the millions of acres of national parks, historic structures, cultural artifacts, ancient forests, snow-capped mountains, and clear blue lakes. 4th graders and their families (or classrooms) get free access to hundreds of parks, lands and waters for the entire school year. To begin, access an Every Kid in a Park pass. The pass will give you free access to national parks, national forests, national wildlife refuges, and more!
Fourth-grade teachers can also download activities and print Free National Park passes for each student. The passes are good through August 31, 2019. Get yours today and plan a trip! For information, please contact via email everykidinapark@ios.doi.gov or visit https://www.everykidinapark.gov/.
Mississippi National River and Recreation Area extends 72 miles along the Mississippi River. Part of the park extends along the Anoka County border in Ramsey, Anoka, Coon Rapids and Fridley where there's a dam and water treatment works draw water for people. You can learn about river ecosystems at several of the recreation area's visitor centers, including an interpretive center in Minneapolis. A heron rookery lies just downstream. Across the river in St. Paul, the Mississippi River Visitor Center helps you explore the park and plan activities — from river walks and canoeing to biking and birding. In the winter, visitors often don snowshoes or cross-country skis to traverse river trails. Numerous points of interest lie just north and south of the Minneapolis area, including Hastings River Flats where a dam provides a perfect ecosystem for the eagles you can observe there.
Did you know: At Lake Itasca, where the Mississippi River begins, the river elevation is 1,475 feet above sea level. And is 841 feet at the Coon Rapids Dam. It drops to sea level at the Gulf of Mexico. More than half of that drop occurs within the state of Minnesota.
Voyageurs National Park – A little more than a half-day drive from the Twin Cities, Voyageurs National Park lies due north near the Canadian border. Voyageur is a French word meaning "traveler," and pertains especially to those involved with the North American fur trade in the 1700s. Hardy men paddled large canoes on connecting lakes and rivers on a route stretching from northwest Canada to Montreal and through what is now the park. Water covers almost 40 percent of the park. The Rainy Lake Visitor Center features a film and exhibits detailing the area's history and voyageur routes. Many visitors rent houseboats and explore wilderness areas punctuated by many islands. Hikers may choose from nine trails, from short loop walks to back country excursions. On your hike, you may see black bear and white-tailed deer, and in winter may spot fox and otter on frozen ponds. Visitors with additional time can visit Grand Portage National Monument, a park that marks the spot where voyageurs and Native Americans made a "grand portage" between Lake Superior and inland waterways. The park is northwest of Duluth on Lake Superior.