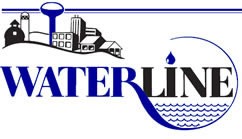 The Spring 2020 issue of Waterline is out now! "The Waterline is a quarterly newsletter for water operators, city officials, and others interested in news related to public water systems in Minnesota", published by the Minnesota Department of Health's Drinking Water Protection program.
Highlights in this issue include a special story on how the Xcel Energy Center uses St. Paul water to make the ice rink for the Minnesota Wild, a Star Tribune article on water towers ("Why Do We Have Water Towers and What Do They Do?"), a story on a new canine employee at Central Arkansas Water, and the introduction of "Patty Potty" – a creation of the San Jacinto River Authority in Texas to promote its "No Wipes in the Pipes" campaign.
Articles included in the issue:
Help Possible for Lead Service Line Replacements
What Are Those Spaceship-Looking Things?
Water-Wastewater Utilities Treatment and Technology Program Update
Community Water Supply Additions
Service Connection Fee Increase Takes Effect
Sniff This
Metro School to Have Special Day for Superintendents and Supervisors
Surface-Water Optimization Training in Minnesota
Crookston Honored with People's Choice Award
Wild Rink Starts with St. Paul Water
Randall Gets Award from the Environmental Protection Agency
Grants Awarded for Bottle-Filling Stations
Lake Harriet Pump
Lewis & Clark Project to Benefit from Increase in Rural Water Funding
EPA Turns 50
Check out Patty Potty and Other Worthy Sites
New Addresses for Minnesota Department of Health Water Websites
Past issues of the Waterline can be found here.