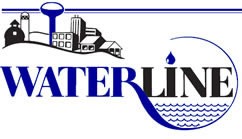 The Summer 2020 issue of Waterline is now available. "The Waterline is a quarterly newsletter for water operators, city officials, and others interested in news related to public water systems in Minnesota", published by the Minnesota Department of Health's Drinking Water Protection program.
Highlights in this issue include an article about how public water systems are continuing to supply drinking water while keeping their customers and employees safe during the COVID-19 pandemic, news about a new program at St. Paul College for water environment technologies, an attempt to save the "happy" water tower in Freeport, and updates on schools and training for water operators that are being affected by COVID-19.
Articles included in this issue:
Coping and Continuing with COVID

An Easy, No-Costs Pandemic Drill for Utilities

Lead Service Lines: Where Are They?
Freeport: Have a Nice Day
WUTT Is Happening
Anna Schliep Is New Lead in Drinking Water Coordinator
Permanent Rules Governing Fluoridation of Municipal Water Supplies Adopted
School and Training Update
CREAT Is Coming
New Addresses for Minnesota Department of Health Water Websites
MDH to Reduce Printed Copies of Waterline
Reminder to All Water Operators
Calendar
Past issues of the Waterline can be found here.