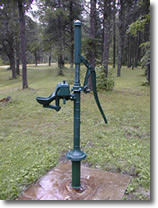 Minnesota Department of Health's Source Water Protection Grants for Noncommunity Transient Public Water Supply well owners are available (see announcement).  Grant applications may be submitted on October 1st.  The deadline to submit a grant application is October 31st.
Food and lodging establishments that own and operate an on-site well and water system are eligible for this category of grant.
Grants for noncommunity transient public water supply systems are to:
Support wellhead protection measures that address a potential contamination source that presents a high risk to a source of drinking water as determined by the MDH or Anoka County Environmental Services;
Have a maximum amount of $10,000, which may be increased to $30,000 when three or more public water suppliers apply under the same application; and
Require an equal financial cost share amount;
For more information contact the Drinking Water Protection Program at 651-201-4700 (health.drinkingwater@state.mn.us).