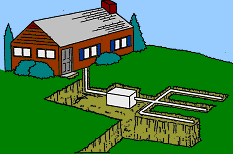 Cooking for a crowd this holiday season? Please remember not to pour fat and grease down the drain–it can clog your septic system. That's just one of 100 tips that you'll hear from the Anoka County Extension Service experts at their septic system class. 
A septic system is professionally designed to treat sewage for a specific home, business, or group of properties. Proper treatment of sewage returns (recycles) water back to groundwater with reduced risk to human health, nearby wells and the environment surrounding your home.
Learn how to keep your septic system operating properly – when to pump, how to protect it from freezing, and more. The Anoka County office of the University of Minnesota Extension Service will be holding a Homeowner Education for Septic Systems (2-hour) workshop on February 25, 2014 at 7:00 p.m.  at the Bunker Hills Activity Center in Andover.  Attendees will receive the Septic System Owner's Guide and come away more confident and knowledgeable – it's a wise investment of time.
Cost is $10 per family.  Registration is due by February 21st.  For more information call the extension service at 763-755-1280.