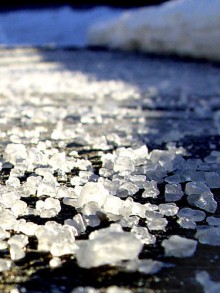 Ice, is part of our winter wonderland making walking and driving hazardous. Salt, is part of the cure for icy roads and sidewalks. Moderation, is necessary in applying salt to roads and sidewalks to reduce water pollution as salty water runs off into ditches, streams, lakes wetlands and rivers.
The Minnesota Pollution Control Agency (MPCA) is considering listing several lakes as impaired because excessive chloride (salt) concentrations in the water: Chloride and Our Water – Monitoring The Mix (YouTube video, 3:20).
Simple things that homeowners can do to reduce pollution while staying safe:
Watch a video – Improved Winter Maintenance: Good Choices for Clean Water.
Shovel –  The more snow and ice you remove manually, the less salt you will have to use and the more effective it can be. Get out there early and keep up with the storm. You may even decide that salt isn't needed.
Colder than 15°F – most salts stop working at this temperature. Use sand for traction instead. See the MPCA's table to learn which products work at which temperature.
More isn't better – more salt does not mean more melting.

Be patient

– give the salt time to work. Use less than 4 pounds of salt per 1,000 square feet (an average parking space is about 150 square feet). One pound of salt is approximately a heaping 12-ounce coffee mug. Consider purchasing a hand-held spreader to help you apply a consistent amount.
Sweep up extra – salt or sand remaining on dry pavement is no longer doing any work and will be washed away. Use this salt or sand somewhere else or throw it away.
Slow down – adjust your driving for the conditions and make sure to give plow drivers plenty of space to do their work.