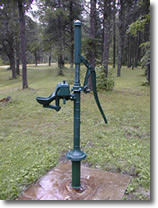 As temperatures rise, people move outside to golf courses, water parks, soccer fields, and baseball diamonds.  It also means starting up seasonal wells and installing water dispensers at parks, campgrounds, golf courses and outdoor catered events. To get started right – businesses and organizations must sanitize your water well and stored water dispensers. Then, perform a test to be certain that the water that looks okay is safe to drink.
Anoka County Community Health and Environmental Services Department encourages operators of seasonal water well systems and on-site water dispensers to properly open wells and clean (sanitize) water dispensers by following the Department guidelines:
For more information call 763-422-7063.