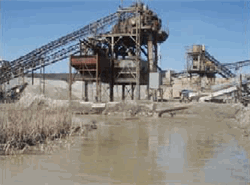 To prevent pollution from reaching ditches, streams, lakes and rivers the Minnesota Pollution Control Agency reminds manufacturing, recycling, transportation or other industrial businesses to apply for an industrial stormwater permit before the October 5th deadline. Stormwater management helps facilities prevent, reduce or control pollution of surface and groundwater by restricting contact between pollutants and industrial equipment, machinery, raw materials, products, waste-handling equipment and wastes.
Industries, ranging from timber products to chemical manufacturing, scrap recycling, landfills, air transportation and salvage yards must be permitted where stormwater may come into contact with industrial activities or wastes. Currently permittees (202 in Anoka County) must re-apply before October 5, 2014. Other businesses learn whether they need a permit by going to the Industrial Stormwater Permit information website.  Current permittees are listed on the Industrial Stormwater permit database.
For more information contact the MPCA Stormwater program staff at 651-757-2119. The penalty for late applications, or failure to apply, is $400.