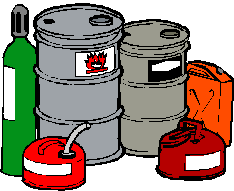 In Anoka County, industrial and commercial businesses that produce any amount of hazardous waste are regulated as hazardous waste "generators." A generator must comply with pollution control requirements based upon the amount of waste they produce. These requirements are part of the Minnesota Hazardous Waste Rules and Anoka County Hazardous Waste Ordinance. They are designed to protect people and the environment from the effects of improper management of hazardous wastes from commercial sources.
Representatives from businesses that produce very small and small quantities of hazardous waste attended the September 16, 2015 Hazardous Waste workshop held by Anoka County Environmental Services (763-422-7093) (program slides).  The attendees recieved information, not only on managing hazardous waste, but on protection of their community's water resources and drinking water supply.
Businesses, nonprofit organizations, and units of government that generate most types of hazardous waste at sites in Anoka County are required to report that waste annually to Environmental Services, pay a fee, and obtain a license for the subsequent year. "Businesses that generate hazardous wastes in Anoka County have made management of the wastes a priority for the protection of our natural and water resources" said Bart Biernat, Environmental Health Specialist.
Household Hazardous Waste. Businesses are not the only generators of hazardous wastes in Anoka County. Workshop attendees were challenged to help get the message out to residents that they should also protect our natural resources by properly disposing of their household hazardous wastes at the Anoka County Household Hazardous Waste Facility.
Attendees learned that efforts to manage their hazardous wastes were appreciated by county and city agencies, and watershed management organizations that plan and manage local water resources for economic and recreation use. Plus, local groundwater is the source of drinking water to homes and entire communities. Many public water suppliers have established Wellhead Protection Areas to address pollution sources (such as business hazardous waste and household hazardous waste) near public water wells.
NEXT WORKSHOP.  Anoka County Environmental Services will be holding a Large Quantity Hazardous Waste Generator workshop on Wednesday, September 23, 2015.  For more information call Laura Schmidt at 763-422-7253.