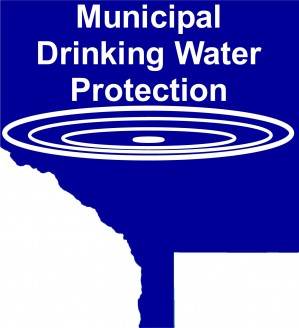 Many Anoka County residents and businesses would be surprised to learn that an old well is hidden or buried in the basement or on their property. Old wells that have not been properly sealed become a serious hazard to the quality of groundwater and the safety of the community's drinking water supply. Minnesota law requires the owner of an unused well to have it sealed. Minnesota law requires the seller of a property to disclose all wells on the property.
Priority: sealing old wells near city wells. Public water suppliers in Anoka, Blaine, Centerville, Circle Pines, Fridley, Lexington, St. Francis and Spring Lake Park have performed Well Probability Studies of the Wellhead Protection Area around their wells.
A property is probable to have a well if a home or building was constructed before public water was available. When city water reached the home the well was often abandoned, forgotten and lost. But it remains a way for pollution to flow down the old decayed pipe into the source of water to the community – unless it is sealed correctly (by a licensed well professional).
The results of the Well Probability Studies have been incorporated into the Anoka County Wellhead Protection website. By selecting the "Probable Well Parcels" checkbox from the "More" tab the property lines with probable wells are highlighted. When clicking on the property you will see the year that the building was constructed and the year water main service was installed.
Help is available. Your city is ready to help residents in complying with the laws to seal wells and protect groundwater. Grants to seal old wells within wellhead protection areas are currently available (for a limited time) from Blaine, Circle Pines, Fridley, Lexington and Lino Lakes. All cities are interested in hearing from residents about wells and are finding ways to assist property owner in sealing their well.
For more information, or be notified of future grants, contact the wellhead protection manager in your city:
Andover: Brian Kraabel 763-767-5180
Anoka: Pete Klingenberg 763-576-2923
Blaine*: Jim Hafner 763-785-6188
Centerville: Paul Palzer 651-429-4750
Circle Pines* : Chandra Peterson 763-231-2611
Coon Rapids: Kory Jorgensen 763-767-6493
Fridley*: Jim Kosluchar 763-572-3566
Lexington*: Bill Petracek 763-354-2805
Lino Lakes*: Marty Asleson 651-982-2435
Ramsey: John Nelson 763-433-9861
St. Francis: Paul Teicher 763-753-2630
Spring Lake Park: Terry Randall 763-784-6491
*Well Sealing Grants are currently available. The well must be sealed by April 15, 2016. Please hurry.