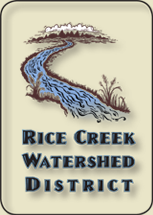 Collecting and reusing stormwater for irrigation is gaining attention. By reducing stormwater pollution runoff directly into creeks, rivers and lakes – we are preserving our swimming, fishing and drinking water resources. Another benefit is to help reduce increased groundwater withdrawal, by wells, for irrigation of lawns, gardens and landscape.
The Rice Creek Watershed District (RCWD) has recently released its Stormwater Reuse for Irrigation Assessment Methodology. The Methodology provides guidelines for locating, installing and operating a stormwater reuse facility at parks, golf courses, schools, businesses and residential developments.
The Oneka Ridge Golf Course and the City of Hugo successfully reuses stormwater for irrigation. It was part of the Bald Eagle Lake Restoration Project that resulted in the RCWD's development of the watershed-scale assessment Methodology. The Bald Eagle Lake Restoration Project ultimately won the Minnesota Association of Watershed District's 2016 Project of the Year.
The Methodology is a step-by-step, repeatable planning process for identifying sites that would be suitable locations for reuse projects. Technical criteria are used to evaluate the feasibility of locations, and qualitative criteria are used to prioritize those technically feasible sites. The methodology was developed with the intention to be used by others. Qualitative criteria can be modified to meet different community goals.
The RCWD will be holding a workshop for potential users on March 9th for decision makers and technical staff. Individuals interested in this training should contact Beth Carreno (763-398-3073, bcarreno@ricecreek.org).
The Rice Creek Watershed District is committed to building and promoting projects that provide our residents with multiple benefits such as improved water quality, flood protection, and reduced reliance on groundwater for landscape irrigation. RCWD Administrator, Phil Belfiori, stated that this project was significant and timely, "because as interest in water reuse grows so does the need for a way to systematically identify areas that are best suited for these practices."
This Methodology was developed with Houston Engineering Inc. (HEI) serving as the engineering consultants for the project. The Minnesota Board of Water and Soil Resources (BWSR) provided funding for the development of the methodology through the Clean Water, Land, and Legacy Amendment.