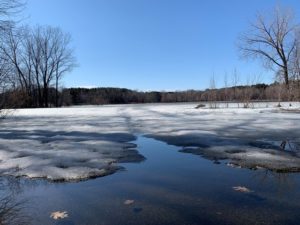 The following DNR news release highlights the need to take lots of precaution with ice conditions this time of year. Stay safe!
"As the winter-to-spring transition unfolds, the way people experience the change in seasons will be a little different this year. But while we stay close to home for our outdoors time and practice social distancing, one thing remains the same. People must put their safety first, especially around lakes and rivers where the ice conditions vary around the state. With many lakes and rivers now ice-free, and the ice where it remains getting weaker by the day, Minnesota Department of Natural Resources conservation officers remind people to be especially vigilant.
'Ice conditions can be dangerously deceptive this time of year, and people should either stay off altogether or check its thickness frequently with a chisel as they're walking out,' said Rodmen Smith, director of the DNR Enforcement Division. 'If they're around open water, people need to know the consequences of a fall into cold water can be tragic.'
Falling into cold water causes people to gasp involuntarily and inhale water. Even strong swimmers can be incapacitated quickly. Wearing a life jacket – whether on late-season ice or near open water – gives people a fighting chance to survive a fall into cold water. Anyone on the ice should have ice picks and a whistle with them, and all people who recreate near water should tell someone where they're going and when they plan to return.
Given their innate curiosity about ice and water, children are especially vulnerable. Adults should ensure kids stay away from ice or open water unless they're accompanied by a responsible adult.
People who go fishing, which is one of the outdoors activities Gov. Tim Walz highlighted in his "Stay at Home" executive order, should fish waters close to their home. Anglers should share a boat only with people in their immediate household, and maintain a social distance of at least 6 feet between them and other anglers whenever launching their boat or while on the water.
For additional information about ice safety, visit mndnr.gov/icesafety. See mndnr.gov/safety/boatwater/cold-water.html for tips about staying safe in cold water."