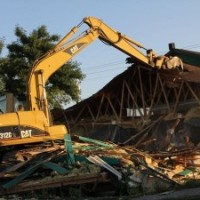 It's the law: unused wells must be sealed.  During this construction and demolition season, the Anoka County Municipal Wellhead Protection Group asks residents, property owners and developers to be on the lookout for old unsealed wells as you dig, demolish and develop.  It is estimated that there are over 20,000 unused wells in Anoka County.
Before cities like Blaine and Fridley established their water supply systems – many many home, business and farm wells were used. As cities like Andover and St. Francis expand their water systems – many many homes and businesses will discontinue using their wells. Wells no longer in use were often buried and forgotten. But there are ways to find lost wells (webpage).
Unused wells that have not been properly sealed can be a source of groundwater pollution, potentially contaminating nearby drinking water wells. They may threaten the safety of city water wells by allowing pollution to rapidly move down old decayed wells into deep groundwater.
Well sealing is the process of clearing debris and filling the well with a special material called grout according to the Minnesota Well Code. Only a licensed well contractor may seal a well to certify proper closure. By Minnesota law, a well must be in use, be under a maintenance permit (if unused), or be sealed by a licensed contractor. A well must be sealed if it's:
not in use (abandoned or non-functional),
contaminated,
improperly sealed (without inspection/certification),
a threat to the quality of the groundwater, or
otherwise poses a threat to health or safety.
For more information contact the Minnesota Department of Health's Well Management Unit at 651-201-4600, go to the MDH Well Sealing webpage or see the Well Sealing video (YouTube; 4:36).