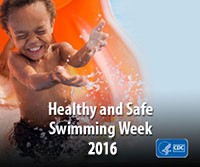 May 23–29, 2016, the week before Memorial Day, marks the start of outdoor swimming and the annual Healthy and Safe Swimming Week. Swimming is one of the most popular sports activities in the United States. Pools, waterparks, hot tubs/spas, splash pads, and water playgrounds are great places to have fun, be active, or just relax. Have fun while you swim but know how to stay healthy and safe while enjoying the water!
The best way to prevent recreational water illnesses is to keep germs out of the water in the first place. Swimmers can protect themselves and others by following these six tips:
Don't swallow pool or lake water.
Practice good hygiene. Shower with soap before swimming.
Wash your hands thoroughly after using the toilet or changing diapers.
Don't swim when you have diarrhea.
Take children on bathroom breaks or change diapers often.
Change diapers in a bathroom, not at poolside or beachside.
"We are working closely with our licensed public pool operators to ensure the health and safety of swimmers," said Angela Dabu, Environmental Health Specialist with Anoka County Environmental Services. "Swimmers can do their part by following the six tips to keep the water healthy on those hot and busy days at the pool."
To report a suspected waterborne illness, call the Minnesota Department of Health's Foodborne and Waterborne Illness Hotline at 1-877-FOODILL. Contact Anoka County Environmental Health – Licensed Pools & Spas (763-422-7063) to report a concern with a County licensed public pool.