Our Groundwater Connection
The Anoka County Water Resource Outreach Collaborative has translated their "Our Groundwater Connection" video into the 6 most commonly spoken, non-English languages in Anoka County via subtitles. These languages include:
Somali
Hmong
Spanish
Vietnamese
Arabic
Russian
To access the subtitles (except for Hmong – keep reading for instructions to view Hmong subtitles), first go to the video on YouTube, then click on the gear icon in the bottom right of the video, then on "Subtitles", and then finally choose the language you wish to see subtitles in.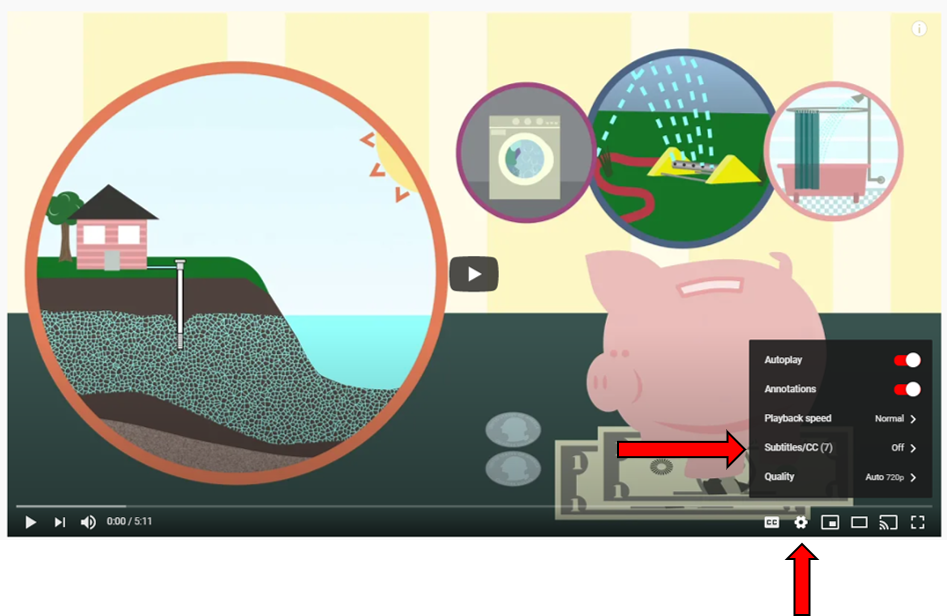 Uploading Hmong subtitles is not yet supported by YouTube. View Hmong subtitles here. Timestamps help the viewer follow along with the visuals in the video. This link to the subtitles is also provided in the video's description on YouTube.
MS4-Related Videos – Lawn Care & Illicit Discharge
Additionally, many new videos have been released with the Minnesota Pollution Control Agency's MS4 Toolkit that cover topics like lawn care and illicit discharge. With the exception of the Hmong videos, these videos do not have any spoken audio (just music), but have text describing the photos and video clips that make up the video as a whole. Videos are available with this text in English, Spanish, Somali, and Hmong. To view a video, click on the language you wish to watch the video in
Illicit discharge:
Lawn Care:
4 Tips for a Beautiful, Water-Friendly Yard:
************************************************************
The Anoka County Water Resource Outreach Collaborative is "a fledgling partnership formed in 2018 to implement a comprehensive water outreach and engagement program for watershed and city partners in Anoka County, MN." Partners include the Anoka Conservation District (host), Anoka County, local watershed management organizations, and cities and townships. (Website)